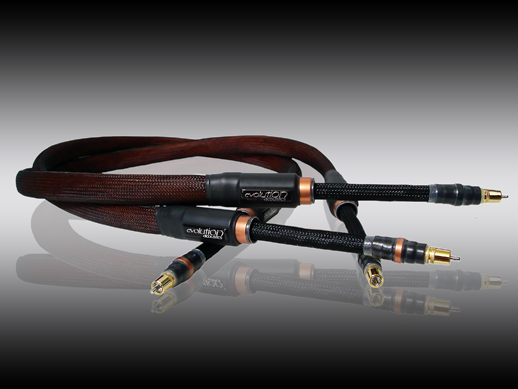 Evolution Acoustics
Interconnect
Over four decades of engineering research and expertise from some of the brightest minds in audio today went into the design of the Evolution Acoustics interconnects, speaker cables and power cords. Each cable model undergoes years of testing and research before ever reaching the market to ensure optimum performance and value, whether you own the first pair or the 1000th.
All Evolution Acoustics cables are designed, engineered, handcrafted, and assembled in the USA. Every aspect of our cables are painstakingly researched and analyzed to produce incredible micro and macro dynamic performance as well as the highest level of clarity in the industry. Only the finest parts are used throughout including Teflon insulated solid core high purity copper wire and silver rhodium terminations. In addition, all termination and junction housings are custom built by hand utilizing constrained-layer damping techniques to reduce unwanted micro phonics.
Due to the extreme engineering behind these cables, proper burn in will begin to occur after several hundred hours. These are probably some of the heaviest and largest cables in the industry with an extraordinary amount of copper. Therefore, be patient, because when adequately broken in their performance is sublime.
Specifications