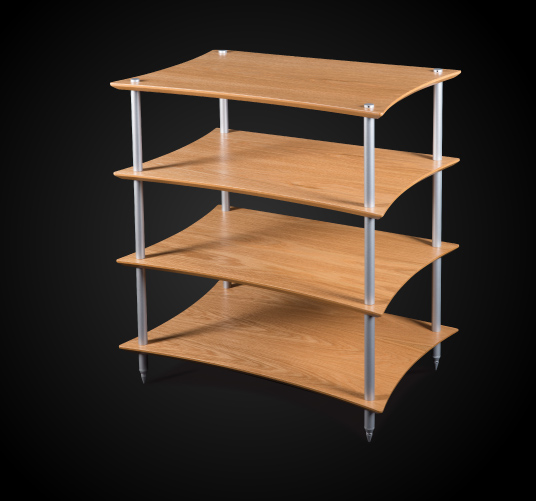 Q4 EVO
---
THE ORIGINAL STAGE TO BRING
YOUR HI FI TO LIFE

Twenty years ago we set out to develop a Hi Fi rack that would
deliver acoustic performance with style. This was achieved by
combining solid aluminium columns with specially engineered
shelves to create a light and rigid construction.
ENGINEERED FOR SOUND
All  Q4 EVO shelves are specially engineered to reduce mass and resonance
to deliver a clearer, cleaner musical performance.
Q4 EVO OPTIONS 
MODULAR DESIGN FOR A VARIETY
OF SYSTEMS AND UPGRADES
The Q4 EVO is a practical modular solution combining shelves with aluminium
columns and feet to enhance your sound system both sonically and visually.
Its flexibility allows you to build the rack to your own specification to fit any
number of components
Q4 EVO COLUMNS
The Q4 EVO Columns come in Black or Silver finish and are available in two
diameters, 19mm or SV32mm, and in 6 different heights to accommodate different
sized components and can be easily interchanged if your system changes.
Spike feet and flat feet are included as standard with your rack,
casters are avaiable as an optional extra.
Q4 EVO SHELF FINISH
Q4 EVO shelves are available in Solid Bamboo or Natural wood finish.
The natural wood veneered shelves are 16mm (⅔") thick and are available
in the following finishes:- Cherry, Oak, Maple, Wenger and Black as
shown. Being real wood, each shelf is unique in its natural beauty and
therefore subject to variation in grain and colour.
Q4 EVO SHELF SPECIFICATIONS
Q4 EVO Outer dimensions
590mm (23 ¼") x 395mm (15 ½")
Shelf thickness
Weight capacity
If dimensions do not fit your system then ask us to make a custom version to your specification
Specifications