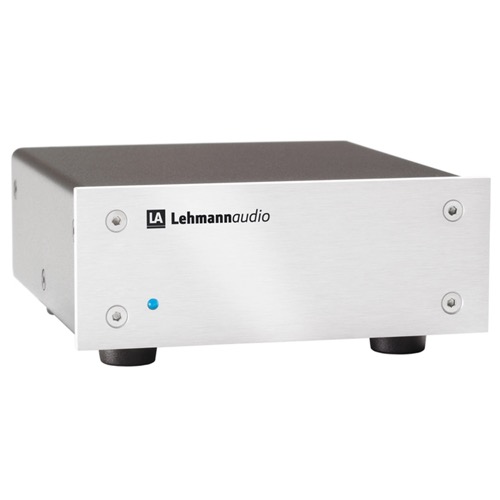 Lehmann Audio
Black Cube SE II
The advanced version of the multi-awarded Black Cube SE has a lot to offer: based on the SE audio circuit, the SE II has been upgraded with superior sockets, visually it excels by a housing with a faceplate. A bass filter, which can be finetuned extensively to your personal needs, takes the performance of the Black Cube series to a new level.
As the proud owner of a Black Cube SE II you will get the feeling as if the music had been composed just for you. There is hardly a system that can be tailored so individually to your listening habits and acoustic preferences like this technical masterpiece. The Black Cube SE II will bring you and your favourite music together even more closely!
A truly audiophile phono stage
Virtually all common systems from high-output MM to MC may be connected to the Black Cube SE II. We have included a free slot per channel for the solder-free fitting of a custom impedance, and there is also an extra hardwired plug-in location with immediate action. Should you wish some resistors to match your personal system to the Black Cube SE II, we will enclose them with your order at no cost.
"To find more depth and detail in music I know so well was a remarkable experience and I warmed to this little gem of a phono stage all over again."
— Hifi News

The high-precision passive RIAA filter network sits between two linear gain stages and has been realised using high-grade, surge-proof and narrow tolerated polypropylene foil capacitors. That way transients, dynamics and timbres can reach the listener in a pure manner. As with the whole Black Cube family, the Black Cube SE II also uses professional input stages of the latest generation for a precise, low-noise and powerful reproduction. The audio section contains additional modules for an efficient hum, HF and random voltage suppression. The use of a double-sided audio board allows an optimised trace layout for a particularly low-interference operation.
The PWX power supply – dependable and powerful
Due to a custom-designed toroidal mains transformer with a static shielding, the strong and seriously oversized external power supply ensures a particularly safe operation. Neutrik XLR connectors with gold-plated pins provide the safe contact between audio section and PWX power supply; the cable between audio and power section is shielded. Furthermore, the two housings are made of a non-magnetic material (aluminium) and their top lids are mechanically dampened.
By the way, with its high-class front panel (silver, black or chrome-plated) the Black Cube SE II also cuts a fine figure in your hifi rack.
Specifications