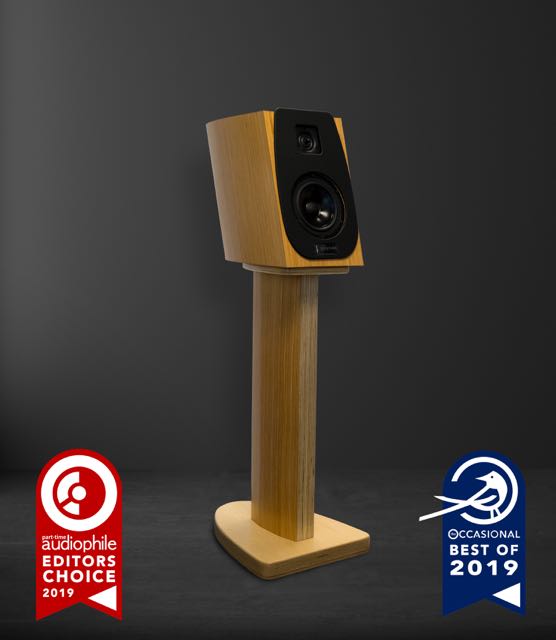 LEGATO UNUM
The Legato Series was engineered in a way that they can be driven by a small or large vacuum tube or solid state amplifier and easy placement or set up in a room. Sophisticated cabinet design utilizing one piece molded curve cabinet, state of the speaker drivers, and high quality crossover components work in harmony with our Symmetrical Panoramic design crossover network to deliver a natural sound, effortless micro and macro dynamics, huge soundstage with a sense of air around the musician and instrument while maintaining music emotion.
This series was created to deliver musical expression, huge soundstage and vivid imaging on a small foot print with a more attainable price point.
(Available in Cherry and Red Rosewood finish.)
TECHNOLOGY
At Sonner Audio, our focus is on providing you sound quality that is authentic and emotionally rich. Our Creative Development Team finely tunes each speaker beyond computer modeling and simulation, with extensive human listening tests to bring a completely unique, realistic and dynamic experience to fellow music enthusiasts like you.

THE SONNER AUDIO EXPERIENCE
Compare the specifications of our competitors, but notice the difference in sound.
Only Sonner Audio speakers offer this level of attainable realism.
Specifications
System:
2 way bass ported enclosure.
Drivers:
Tweeter: 1 inch Ring radiator tweeter
Mid Woofer: 5.5 inch coated Paper cone

Sensitivity:
87.5 Db

Frequency Response:
43 Hz – 23 K Hz

Nominal Impedance:
8 Ohm

Minimum impedance:
5 Ohm

Crossover Frequency:
2.5 K Hz

Recommended Power Amplifier:
10 W to 200 W

Recommended Stand Height:
26-27.5″ inch
66-70 cm H

Speaker Dimensions for Individual Speaker:
8.27" Width x 12.6" Height x 17.75" Depth without grill.
21 cm Width x 32 cm Height x 45 cm Depth without grill.

Package Dimensions for Individual Speaker:
12 1/8 Width x 18 1/8" Height x 22 3/8" Depth.
30.8 cm Width x 46.04 cm Height x 56.8 cm Depth.

Net Weight:
20 lbs
9kg

Shipping Weight:
30 lbs
13.6kg