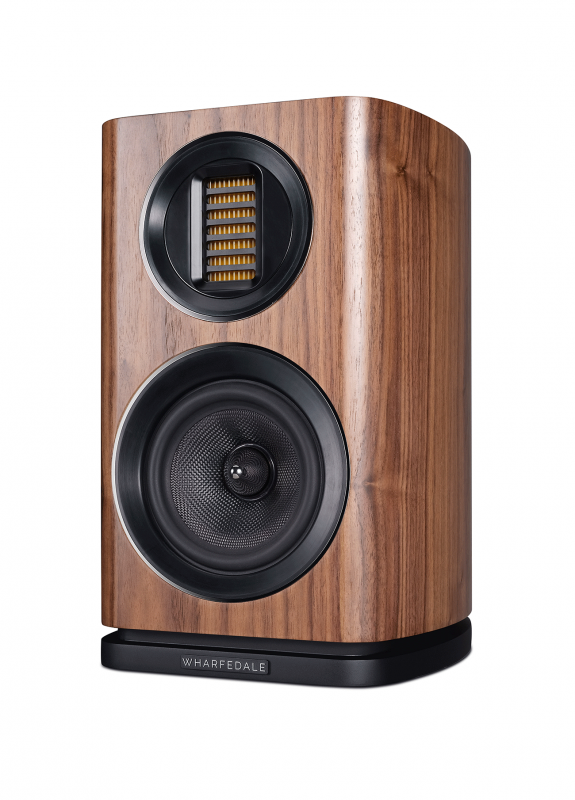 Wharfedale's new EVO4 has grown out of the extensive research and development that produced the ELYSIAN flagship loudspeakers and borrows much of the technology involved in ELYSIAN.
The primary focus is on the AMT development resulting in a radically different way of reproducing high frequency detail efficiently and accurately. Similar cabinet technology to ELYSIAN provides a stable and solid foundation for the drive units with radiused edges to help integrate the driver output with the room acoustics. In addition the unique SLPP bass reflex system, as developed for ELYSIAN, is now incorporated in EVO4.
Beauty with Purpose
The EVO4 cabinet is purpose designed from the ground-up. Not just the sleek curves, which stand out from the competition, but the materials, composites, internal bracing and damping too, for instance. All of this ensures the sonic character is not compromised by aesthetic.
AMT
The AMT (Air Motion Transformer) high-frequency transducer excels above any rival model within this class. The point-source replicating, high-volume air movement results in lower distortion and higher accuracy in HF reproduction.
Accuracy
Articulate and accurate bass is perfected by the bi-directional weaved Kevlar cones, a material that is naturally self-damping to reduce and distribute resonances to virtually negligible levels. In addition, a fixed, profiled phase plug ensures smooth acoustic roll-off.
Finely Tuned
As per the uncompromising workflow and standard of Wharfedale loudspeaker development, hundreds of hours of listening plus custom designed Wharfedale Computer Aided Optimization technology allows for the fine tuning of the crossover, perfecting the combination of the driver selection for ultimate performance.
Versatile in application
The EVO4 series is refined to appeal to the audiophile and the home-theater enthusiast alike. Offering supreme performance in tight spaces, with the compact EVO 4.1 and equally compact but three-way EVO 4.3, there is also the option of the indulgent extension of bass, volume and impact in the three-way 4.2 or 4.4. 4C offers enhanced clarity of dialogue in home-cinema applications while the 4S surround speakers immerse the user in a genuine theater experience.
Specifications
General Description:   2-way bookshelf speaker
Enclosure Type:   bass reflex
Transducer Complement:   3-way
Bass Driver:   5"(130mm) blackwoven Kevlar cone
Treble Driver:   30*60mm AMT
AV Shield:   No
Sensitivity (2.83V @ 1M):   87dB
Recommended Amplifier Power:   25-100W
Peak SPL:   104dB
Nominal Impedance:   8Ω compatible
Minimum Impedance:  3.5Ω
Frequency Response (+/-3dB):   64Hz ~ 22kHz
Bass Extension (-6dB):   55Hz
Crossover Frequency:   2.9kHz
Dimensions (HWD):   13.2" x 8.3" x 11.2"
Weight:   17.2 lbs.