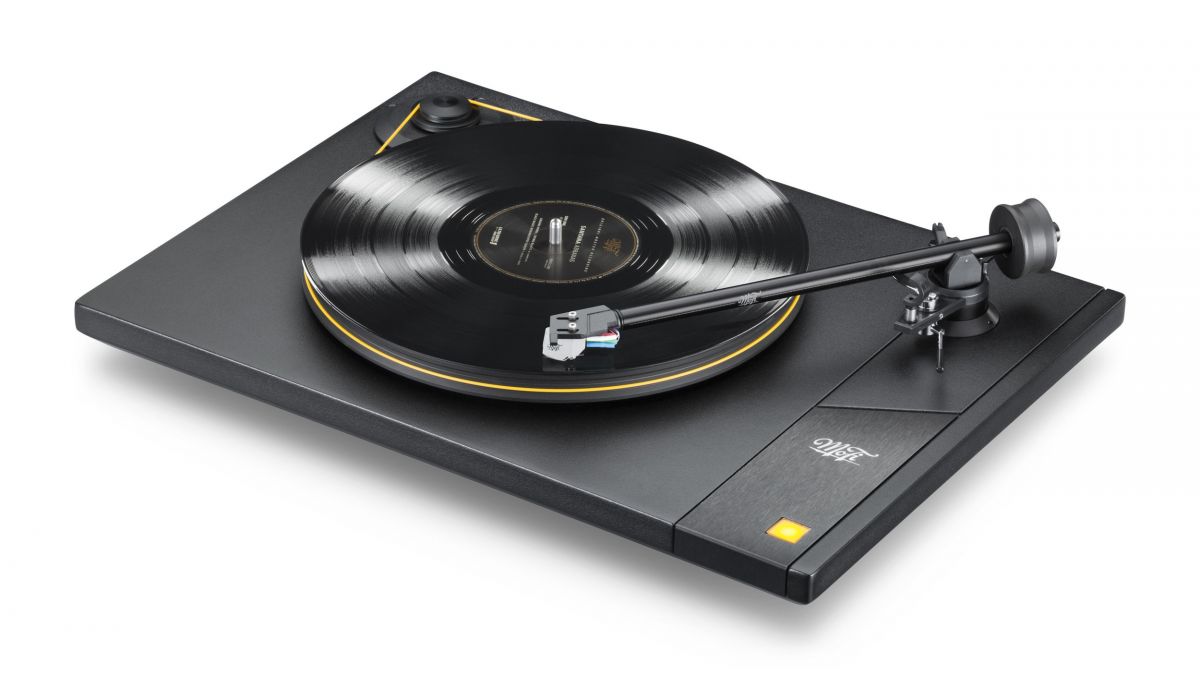 Mofi Electronics
StudioDeck
StudioDeck
STUDIO TONEARM
Custom developed and manufactured in the USA, this 10-inch straight aluminum gimbaled bearing tonearm delivers the ideal balanced of rigidity and low tracking error, so all you hear is what is in the grooves. Tweak to your heart's delight with provisions for adjustable tracking force, VTA, azimuth, and anti-skate.

ISOLATED AC SYNCHRONOUS MOTOR
Our 300 RPM stepped-pulley AC motor provides excellent speed stability for pitch accuracy and rhythmic drive. The Delrin® pulley has two positions for 33 1/3 and 45 RPM speed selection. Motor vibrations are kept away from the platter and stylus by using advanced dampening materials that decouple the motor from the rest of the turntable.

CONSTRAINED LAYER DAMPENING
StudioDeck features an aluminum plate carefully bonded to an MDF body to add mass and eliminate tonal coloration, maintaining the true sound found on the record.

METICULOUS DESIGN AND EVALUATION
Advanced technology, user-friendly features, and unflappable design elements ensure phenomenal playback—ultimately bringing the sound of Mobile Fidelity's famous studio into your home.

ANTI-VIBRATION FEET BY HRS
Any vibration of the stylus that is not created by the grooves in the record is a distortion that will mask musical detail. Developed in conjunction with the engineering team at Harmonic Resolution Systems, the world leader in vibration isolation for audio equipment, the included MoFi anti-vibration feet isolate your turntable from bad vibrations.

3/4-INCH DELRIN® PLATTER
Delrin® is a next-generation polymer developed by Dupont. In the world of audio, Delrin's® highly crystalline structure presents a wonderful impedance match to vinyl records, effectively grounding unwanted noise and keeping it away from the stylus.

STEEL AND TEFLON INVERTED BEARING
Our steel inverted bearing system is designed for smooth, quiet rotational stability. The extremely low tolerance combination of steel, bronze, and teflon—found in much more expensive turntables—will provide you many years of high-performance playback.
FEATURES
• 33-1/3 and 45.0 RPM belt drive turntable
• Custom design and manufactured in the USA
• 10-inch MoFi Studio Tonearm
• 3/4-inch Delrin® platter
• Isolated 300 RPM AC synchronous motor
• Anti-Vibration feet designed by HRS
Specifications
SPECIFICATIONS
Motor
300 RPM AC Synchronous
Speeds
33 1/3 RPM, 45.0 RPM
Platter
3.88 lb Delrin®
Wow & Flutter
0.017% – 0.025%
Signal-To-Noise Ratio
72dB
Power Supply Requirements
120V 60Hz, 220-230V 50Hz, 100V 50Hz
Power Consumption
< 5W
Dimensions
19.69" x 5.375" x 14.25"
Weight
19.1 lb

TONEARM SPECIFICATIONS
Type
10" straight aluminum, gimbaled bearing
Overhang
0.71" (18mm)
Offset Angle
22.8˚ (+/- 2˚ adjustable)
Cartridge Weight Range
5g – 10g